Welcome
RJN Classic Tractors manufacture a range of limited edition 1/16th scale British tractor models.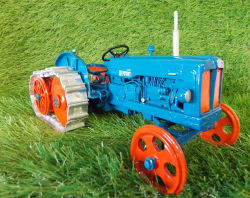 RJN Classic tractors was originally born from our model retailing business Hillside models est 1996. Following many requests from collectors for 1/16th scale models of british tractors which were unobtainable at the time it was decided to go into manufacture.
The small family business is now dedicated to development and manufacture of our range of hand built limited edition tractor and machine models.

All models are built and sprayed in our workshops at Ingleton in North Yorkshire and are available direct from us. We also have a Full size toy shop selling just Agricultural and Industrial Models at Ingleton and customers are welcome to call by appointment. We stock comprehensive ranges of Siku, Britains , Bruder , Joal , Universal Hobbies.
We run RJN Classic Tractors alongside our full size tractor business Brians Used Tractors

Hello Loyal customers new and old we are still producing our RJN Classic Tractor Models, we were only able to attend a few shows at the beginning of the year before the Covid Epidemic.
We feel that many of our European Customers have missed out on the chance to buy our models so we are aiming to ( if we get enough interest ) have a trip to Netherlands and also to Northern Ireland and distribute some pre ordered models / show our range of models - these trips would take place around the times of the cancelled Moira Show and LCN Show this year 2020.
If this interests you do not hesitate to contact us and we will try to schedule our trip around you.
If you are based in England our Model shop is still open - we have a massive range of models including our own RJN, and can by notice have most of our range available to show you.
We now make the Malc's Models Fordson Standard - Fordson E27N - IH McCormick B250 and B275